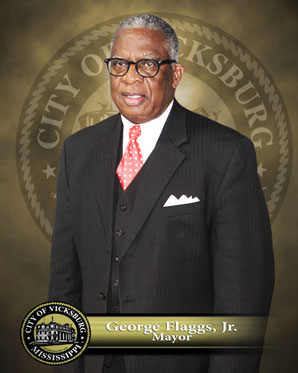 Mayor
George Flaggs Jr.
The Honorable George Flaggs, Jr. is the mayor of the city of Vicksburg, MS. He took the oath of office on June 30, 2013. In a six person race, Mayor Flaggs took 51.11% of the vote to win the Democratic Primary. One month later, Mayor Flaggs won the general election with 72% of the vote.
Mayor Flaggs was a member of the Mississippi House of Representatives, elected 1988. He served as Chair of the Corrections Committee and served on several committees including, Appropriations, Banking and Financial Services, Constitution, Legislative Budget Committee, Public Health and Human Services and Rules.
Mayor Flaggs is affiliated with Wisemen Toastmasters and Optimist Clubs. He is a former member of the Planning Commission and Zoning Board of Appeals, Vicksburg, Mississippi.
Mayor Flaggs was born March 20, 1953, in Edwards, Mississippi. He is married to Valencia Renee. They have three children: Emmarie Genean, Brittany Anquinette, and Elliott George. The mayor also has three grandchildren: Nicholas George Anderson, Stephen Anderson and Addison Anderson. Mayor Flaggs is of the Baptist faith.
CHURCH MEMBERSHIP
• Member Board of Deacons, Mt. Heroden Church, Vicksburg, Mississippi.
EDUCATION
• Bachelor of Science Degree—Industrial Technology, 1984.
Jackson State University; Jackson, Mississippi.
• Post Graduate Studies—Jackson State University; Jackson, Mississippi.
• Associate of Arts—Industrial Technology, 1981.
Hinds Community College; Raymond, Mississippi.
• Vicksburg High School; Vicksburg, Mississippi.
ORGANIZATIONS
• Past Chairman, Mississippi Legislative Black Caucus.
• Past Parliamentarian, Executive Committee of the National Black Caucus of State Legislators.
• Member, Vicksburg Homecoming Benevolence Club.
• Member, National Conference of State Legislators.
APPOINTMENTS
• Past Member, Planning Commission and Zoning Board of Appeals City of Vicksburg, Mississippi (1984-1985).
• Past Member, Vicksburg-Warren County Joint School Board Consolidation Personnel Committee (1986).
• Member of the Joint Center for Health Policy Institute's National Advisory Committee (2005-2007).Joint Committee for Political & Economic Studies (2005-2007).
• Chair of the Business Financial Services and Insurance Policy Committee, National Black Caucus of State Legislators (2011)
ACCOMPLISHMENTS
• National Dean's List (1982, 1983).
• Outstanding Young Men of America (1980, 1981).
• Featured in Governing Magazine, The Benchmarking Craze. (April 1994).
• Mississippi Primary Health Care Association, James L. "Jim" Bean Leadership Award, October 2000.
• Community Service Award - Mu Xi Chapter of Alpha Kappa Alpha Sorority, Inc.
• IHL Exceptional Leadership and Commitment to Excellence in Education -2003.
• Jackson State University School of Social Work - 2003.
• South Eastern Spirit Award - Alpha Kappa Alpha Sorority, Inc. Outstanding service to the Community, 71st South Eastern Regional Conference - 2003.
• Most Distinguished Legislator for Juvenile Justice Causes - 2001.
• Dr. Larry Leflore Juvenile Justice Advocate of the Year - 2005.
• Center for Policy Alternatives' Legislator of the Month - May 2005.
• NAACP Vernon Dahmler Award - 2005.
• 2008 Community Service Award - Omicron Rho Lambda Chapter Alpha Phi Alpha Fraternity, Inc.
• 2009 Friend of Transit Award – Mississippi Public Transit Association.
• 2010 Special Act Award - Omicron Rho Lambda Chapter Alpha Phi Alpha Fraternity, Inc.
• 2010 Humanitarian Award – Vicksburg Homecoming Benevolent Club.
• 2011 Friend of Tourism Award - The Mississippi Tourism Association.
• Network 2013 Distinguished Service & Leadership Award
• 2013 AT&T Business Advocate Award
• 2013 The Charles L. Young, Sr. Memorial Award - Mississippi Action for Progress
• 2013 Grand Marshall – Dr. Martin Luther King, Jr. Parade, Vicksburg, MS
• 2013 Grand Marshall – Christmas Parade of Lights/ Vicksburg Main Street Program, Vicksburg, MS
• 2014 Grand Marshall – Dr. Martin Luther King, Jr. Parade Celebration, Jackson, MS
• 2014 Appointed to the Governor's Council of Mayors by Mississippi Governor Phil Bryant
• 2014 Selected by the readers of the Vicksburg Post as the "2014 Best Elected Public Official"
• 2015 Reverend Henry L. Mayfield Community Service Award
• 2015 Magnolia Bar Association Harriet Tubman Award
• 2015 Board of Directors of the Willard Tyler, Sr. School of Performing Arts
• 2015 Board of Directors of the Mississippi Arts and Entertainment Center
• 2015 Delta Business Journal's Top Minorities
• 2015 Board of Directors to the Jackson State University Institute of Government's Advisory Board.
• 2016 MS Top 50 Most Influential award

LEGISLATIVE EXPERIENCE
• Served in the Mississippi House of Representatives 25 years
• Past Vice Chairman, Apportionment and Elections Committee
• Past Chairman, Labor Committee
• Past Chairman, Juvenile Justice Committee
• Past Chairman, Banking and Financial Services Committee
• Past Chairman, Human Services and Public Safety Committee Of the Southern Legislative Conference
PAST COMMITTEE ASSIGNMENTS
• Corrections, Appropriations, Constitution, Public Health and Human Services, Banking and Financial Services, Rules, and Joint Legislative Budget
ELECTED MAYOR OF THE CITY OF VICKSBURG, MS
• Oath of Office, June 30, 2013