What We Do?
Constructed in late 1973, the Vicksburg Water Pollution Control Center is a 10 million gallon per day trickling filter facility. The facility operates 24 hours per day, seven days per week and treats all of the wastewater generated by homes and various industries inside the City of Vicksburg. The facility employs a staff of eight people. The process includes screening of large debris, grit removal, sedimentation and sludge removal, a biological organic removal process, final sedimentation and disinfection of the wastewater before it is discharged to the Mississippi River.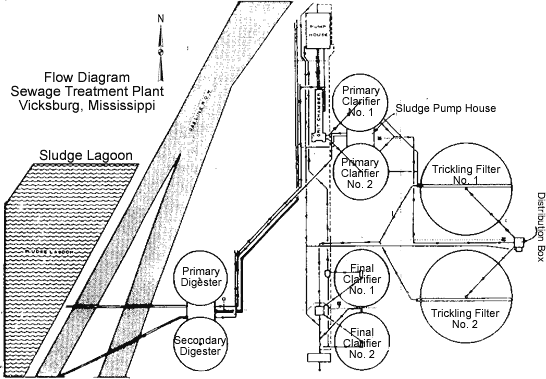 Treatment Type, Permits, and Awards
The trickling filter process is the least expensive of the secondary treatment processes thereby providing a very cost effective method of treating the wastewater generated in Vicksburg. The facility has been sited for excellence in the past and has been named the "Outstanding Wastewater Treatment Facility in Mississippi" for the years 1995 and  2006, and was given the George W. Burke Facility Safety Award for its risk management planning and safety record.
Conservation
The treatment plant regularly meets or exceeds the NPDES permit discharge limits as required by EPA and Mississippi DEQ. Sound design and process control approaches can improve the cost effectiveness of running a wastewater treatment facility. For example, many treatment facilities save money by recovering energy from treatment processes. At the Vicksburg facility the methane gas generated during the digestion process of sludge is compressed and used as fuel for its boiler in the place of natural gas. The biosolids generated in the treatment process are used as soil enhancers and for nutrients on permitted agricultural land in northern Warren County. After extensive treatment and testing the biosolids are sub-soil injected at a depth of 18 inches and provide nutrients which allow the farmer to use less of the more toxic man-made fertilizers. This recycling process helps the farmer and saves valuable landfill space.
What a Bargain!
Environmental preservation achieved by wastewater treatment makes growth possible thereby increasing economic development. It increases property values and improves public health. How important is clean water? In a 1998 Money magazine survey, people chose clean water as the most important factor in choosing a place to live. Clean water ranked above 36 other desirable characteristics, including low crime rates, low cost of living, and low unemployment. Currently, the average consumer pays less than 62 cents a day, or less than a cup of coffee, for wastewater treatment. Current rates in Vicksburg remain below the national average. Clearly, even with anticipated cost increases, clean water remains a bargain.