The first fire company in Vicksburg was organized in April 1837, with a second, rival company organized two weeks later. Others followed, manned by volunteers. By the late 1800`s, some employees were paid, and by 1902, the Vicksburg Fire Department was a fully paid fire service -- the first in the state.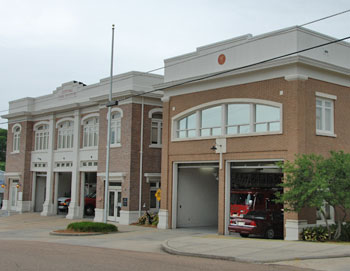 There are currently seven fire stations with more than 110 firefighters and emergency medical personnel employed by the Vicksburg Fire Department.
Station 2, one of our newest stations, is named in honor of Firefighter Jimmy Gibbs, a survivor, and Lt. Johnny McBroom, Captain John Krueger and Lt. David Lewis, who lost their lives on July 3, 1974, in an explosion at Pride Butane Company near the Culkin water tower.
Station 5, located at the Vicksburg Municipal Airport facility in south Vicksburg, is our newest station. It opened 
in April 2011.
The Central Fire Station was completed in November 1925, and a major addition was completed in 1996. Central Fire Station serves as headquarters for the Fire Department and houses administrative offices.
The city´s first two ambulances were delivered on May 16, 1969, and the Vicksburg Warren Ambulance Service was begun. This ambulance service was the first in the state to be run by a city fire department.