Page 1 of 6
The Mississippi River has long played a part in the historical, economic and residential development of Vicksburg. Founded in 1811 and incorporated on January 29, 1825, Vicksburg rapidly grew as a center for commerce, agriculture and river traffic.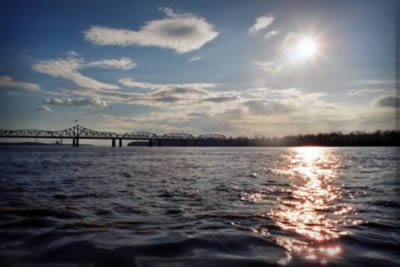 In the 1800's, river travel up and down the Mississippi was fraught with danger. Riverbends were littered with the remains of hundreds of riverboats. In 1838, Congress passed the first federal steamboat safety regulations. Although the Steamboat Act of 1838 made passenger safety requirements federal law, inspections and certifications were virtually impossible and the law was effectively unenforceable.
The hazardous conditions of river travel enabled the railroads to make significant inroads throughout the lower Mississippi River regions. In 1831, the Vicksburg and Clinton Railroad was organized for the purpose of shipping and receiving cotton and other products between the river port and inland Mississippi. Early rail operations in Vicksburg consisted of "mule power," but by 1840 the line was complete to Clinton and "on track.".
In 1846, the line and track spanned the state and was renamed the Vicksburg & Meridian Railroad, the only east-west railroad between Memphis and New Orleans.