Page 4 of 6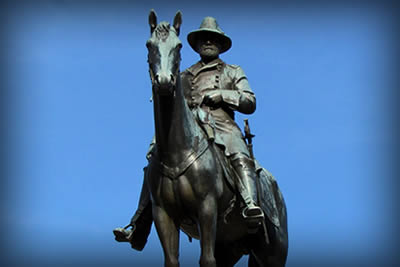 On July 1, 1863, General Pemberton met with his commanders regarding the prospect of being relieved or fighting their way out of the besieged city of Vicksburg. Two days later Generals Grant and Pemberton met in the afternoon to discuss surrender. Grant's final terms stopped short of unconditional surrender, with a major point being that 30,000 Confederates in Vicksburg would be paroled rather than imprisoned.
Pemberton officially accepted the terms around midnight. The next morning, a victorious Union army marched into Vicksburg following the forty-seven day siege.
In 1899, the Vicksburg National Military Park was created through an Act of Congress. This park, now a member of the National Park System, commemorates and preserves the infamous siege line and the historic heritage of Vicksburg. Considered by many to be one of America's most beautiful national memorials, it is the final resting place for 17,000 Union soldiers, 13,000 of whom are unknown.
The Civil War ended in Mississippi on May 4, 1865, with the surrender of the last Confederate forces by General Richard Taylor to General Edward R.S. Canby.