Page 5 of 6
With the final surrender of the Confederate States of America, the North tried to stabilize local conditions. President Lincoln's wishes to reunite the nation with forgiveness, understanding and welcome for the Southern states, died with him. The South's reconstruction under the new President, Andrew Johnson, was harsh and stories of individual states and cities were similar ..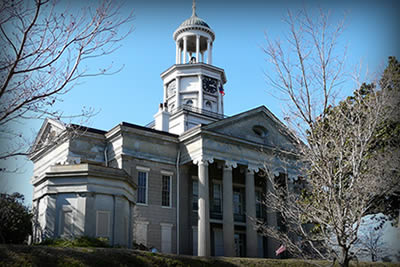 bankruptcy, devastation, internal strife under reconstruction governments.
Vicksburg pressed forward during this trying period. The levee system, vital to river communities, was rebuilt with the return of the Army Corps of Engineers. Land was returned to planting and harvests were shipped to market towns. The rebirth of the steam boat industry, which made a remarkably rapid comeback, was a vital component of Vicksburg's "rebirth."
In April 26, 1876, the Mississippi River accomplished what the Union army could not accomplish 13 years prior -- the river cut across DeSoto peninsula, breaking DeSoto Point and destroying what was left of the Vicksburg, Shreveport and Texas railroad terminal and ferry. This break effectively cut off the east-west rail line. More importantly, it left the river port of Vicksburg with no river. The economic effect on the city was devastating.
The change in the river course helped change Vicksburg's course. In 1873, a Vicksburg office of the Army Corps of Engineers was established to coordinate federal and local river management and flood control efforts. The city still enjoys the pleasure of being "home" to the Corps.