| | | | |
| --- | --- | --- | --- |
| Old Depot Museum Grand Opening | | | |
Thursday, 12 July 2012 12:28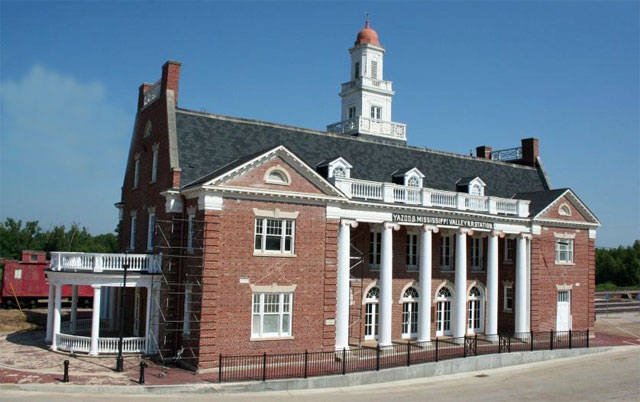 The Old Depot Museum, located in downtown Vicksburg in the former Yazoo and Mississippi River Valley Railroad Depot, will have its grand opening this Sunday July 15 at 2:00 pm after over five years of planning.

"It feels so good to finally be at this point," said Lamar Roberts, the museum's owner. "I feel a cinch of accomplishment that we made it this far and couldn't be more thankful to my wife and family who have been really supportive."

Roberts said that the museum has something for the entire family to enjoy. The museum features the world's largest collection of WBTS ship models and a collection of riverboat models and naval vessels with Mississippi names. The museum will also have model railroad layouts on display.

The museum was made possible by a $1.6 million grant awarded by the Mississippi Department of Transportation in December 2006. The transportation museum is part of an overall redevelopment of the Vicksburg riverfront area that already includes the Riverfront Murals and Catfish Row Children's Art Park as well as the Lower Mississippi River Museum and Riverfront Interpretive Site set to open August 24.

"I think it's a chance to be a big draw for Vicksburg," said Roberts, who is also a Vicksburg Convention and Visitors Bureau board member.
"We welcome the addition of the Old Depot Museum to our collection of historic attractions," said Bill Seratt, executive director of the Vicksburg Convention and Visitors Bureau. "Mr. and Mrs. Roberts are to be commended on their tireless dedication to seeing this project through."

The grand opening will include a welcome by Mayor Winfield as well as comments by Mississippi Department of Transportation officials, the Mississippi Department of Archives and History, Seratt and Roberts. The ceremony will close with the Mississippi Division Sons of Confederate Veterans Color guard in honor of the 150th anniversary of the CSS Arkansas steaming down the Yazoo River into Vicksburg July 15, 1862. The museum will provide refreshments and admission will be free during the grand opening.


Last Updated on Thursday, 12 July 2012 15:00