We would like to invite you and/or your organization to participate in the city wide Great American Cleanup of Vicksburg, Mississippi, May 17, 2014, and create pride in our city. Participation will make this a successful volunteer community event. There will be 4 locations around the city that will accept items from the public.

The Great American Cleanup of Vicksburg, Mississippi is for private and public property such as parks, roadways, and greenways throughout the City of Vicksburg which are in need of a good "spring cleaning" after the cold winter months.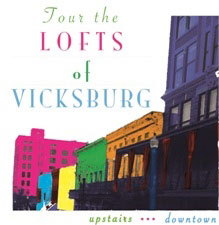 Vicksburg Main Street will host the Lofts of Vicksburg, a fundraiser showcasing the residential side of Vicksburg's historic downtown, March 29th from 2 to 7 p.m. The event will feature a tour of about a dozen living spaces, including newly renovated luxury lofts and apartments.
The Lofts at First National, The Aeolian Senior Apartments and The Warehouse, all new additions to Vicksburg's bustling downtown residential landscape, will be included on the tour. The Lofts of Vicksburg will offer sneak peeks at these new additions to the highly touted historic district.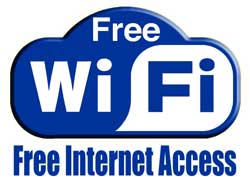 The free Wi-Fi service operated by the City of Vicksburg, and serving users in the 1100 through 1600 blocks of Washington Street has been redesigned and refurbished. New equipment was installed in late 2013 after several months of planning and testing. While the downtown Wi-Fi is designed to cover only the outdoor areas, it hosted over 250 users who accessed 45 Gigabytes of information during the month of February.
Vicksburg, Mississippi – Today it was announced by South Ward Alderman Willis Thompson that Emergency Medical Service in the Vicksburg Fire Department has been upgraded and enhanced to more effectively meet the growing needs of local residents. EMS staff will be able to instantly transmit patient care information to the State EMS office and hospitals in an efficient and timely manner. River Region Medical Center expressed interest in the system to help with their chest pain accreditation. The University Medical Center ER Director will use the system for their stroke and chest pain center.

The system consists of a toughbook laptop, document scanner and Wi-Fi hotspot on each of the ambulances. The laptops are capable of linking to the state's system through the use of a permanently mounted Wi-Fi hotspot. The patient reports are transmitted wirelessly to the state and the hospital.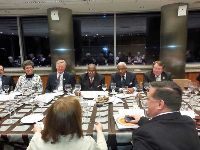 Mayor George Flaggs, Jr. joined more than 60 other Mississippi River Mayors who have united to form the Mississippi River Cities and Towns Initiative, a coalition that represents all 10 states bordering the river. In their policy platform, the mayors outlined the need to address everything from river navigation to environmental issues, the creation of a National Drought Council to funding the existing Pre-Disaster Mitigation program. The group wants federal resources to focus on improving the locks and dams, improving water quality and fighting the aquatic invasive species that threaten the river.
Mayor George Flaggs spoke at the groundbreaking ceremony for River Region Hospital's new 63,000 square-foot Medical Clinic building. The clinic will be built adjacent to the medical center on Highway 61 by-pass. Construction is set to begin March 1, 2014, and should be completed by May 2015. Lt. Governor, Tate Reeves, State Senator Briggs Hopson III, Mayor George Flaggs Jr., Representative Oscar Denton, Representative Alex Monsour, Supervisor Bill Lauderdale, and River Region Hospital officials participated in the ceremony.

The $2,000 MML General Scholarship is open to all high school seniors and is co-sponsored by Mississippi Power Company. It is open to children or grandchildren of employees and elected officials of Mississippi municipalities and to high school seniors working part-time for a member municipality of the Mississippi Municipal League and is co-sponsored by Phelps Dunbar.
Read More ....
Fire Lieutenant Charles Harris was recently honored by the Vicksburg Homecoming Benevolent Club as Firefighter of the Year. He began his firefighting career with the Vicksburg Fire Department almost 22 years ago, in March 1992. He attained Emergency Medical Technician certification through training at Hinds Community College. Lieutenant Harris has attended numerous courses at the Mississippi Fire Academy including Aircraft Rescue Fire Fighter, Rope Rescue I and II, Confined Space training, and Hazardous Materials training.

Lieutenant Harris is a member of Cedar Grove M.B. Church and is a graduate of Warren Central High School. He is married to Etta C. Harris, and they have one daughter, one grandson, a goddaughter, a god granddaughter, and a god grandson.


The Vicksburg Water department has announced that they will be closing Cherry Street from South Street to Belmont Street for through traffic on Tuesday, April 1, 2014, beginning at 8:00 a.m. Because of water line construction, the street will remain closed for most of the day.
South Ward Alderman, Willis Thompson, has been appointed to the National League of Cities (NLC) 2014 Council on Youth, Education and Families. This council (YEF Council) guides and oversees the YEF Institute's work. The membership of this Council, unlike any other NLC committee or council, is composed of not only local elected officials, but also youth members and representatives from major national organizations concerned about children and families. The appointment was announced by NLC President Chris Coleman, Mayor, St. Paul, Minnesota.
"It is very important that we work to create opportunities for our youth. Being a part of this committee will connect us to resources and ideas that may be beneficial to this community. Building a stable, educated, and progressive workforce for tomorrow is essential if Vicksburg plans to be competitive in the future." said Alderman Thompson.
Read more: Alderman Thompson Appointed to NLC Council on Youth, Education and Families